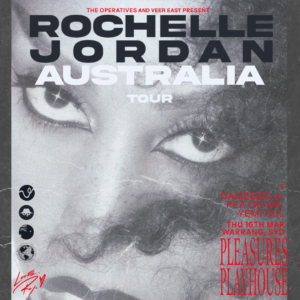 Rochelle Jordan
March 16, 2023
Location:
Pleasures Playhouse
The Operatives and Veer East team up to present Rochelle Jordan for her debut Eora/Sydney show.  Buy Tickets!
Without experimentation, innovation is impossible. For Rochelle Jordan, this desire for sonic expansion has been long embedded into her fusion of futuristic and ancestrally soulful R&B. To listen to a ROJO song is to absorb a phosphorescent but subtle blend of sampledelic 90s pop, vintage UK house and garage, 31st century electronic bangers, airy late night ballads, and progressive hip-hop. Rochelle Jordan's latest album, 'Play with the Changes' (on TOKIMONSTA's Young Art imprint), is both personal evolution and a boundary pushing experiment, which is a culmination of all the Toronto-based artists' past work and collaborations. Such collaborations include the likes of Childish Gambino, Machinedrum, Jacques Greene, and J-E-T-S.
On March 16th, come through and witness this seminal member of North America's underground music scene – one who Pitchfork has named an essential name in the post-Drake Toronto landscape.
Supported by Eora residents Pea Oh Ma and Yemi Sul.
We acknowledge the Gadigal of the Eora Nation, the traditional custodians of this land and pay my respects to the Elders both past and present. Sovereignty was never ceded.

About the venue: 
Pleasures Playhouse is a multi-disciplinary art and live music venue, located in an abandoned cinema in Chinatown, Sydney/Eora. Pleasures Playhouse is a safe and inclusive space.
Our events happen on land of the Gadigal people, and we pay our respects to those past and present. It always was, and always will be, Aboriginal land.
The venue is currently not accessible. If you have specific access needs, please message Pleasures Playhouse to discuss.
Please note Pleasures Playhouse is an 18+ only venue